Thinknyx Educational Services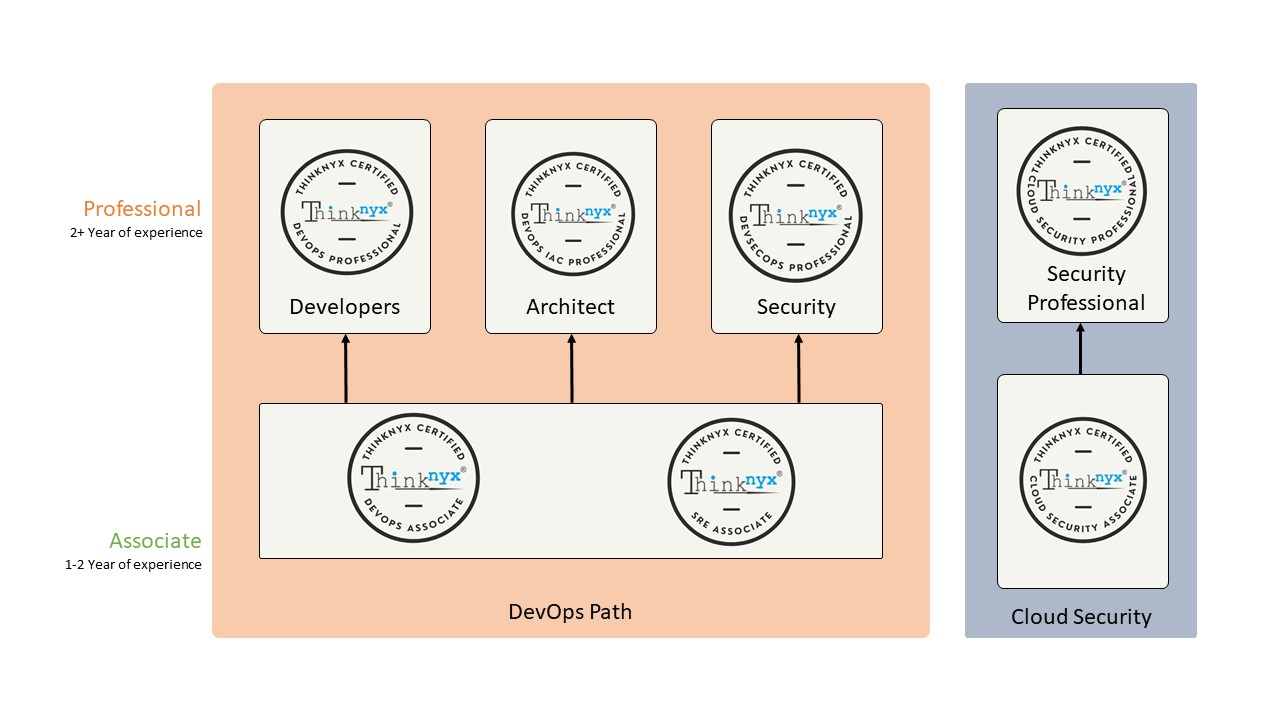 We offer role-based certifications to validate expertise for those in various DevOps, SRE Roles, and Security certifications to validate advanced skills in specific Cloud Security area. Follow our learning paths, to help you build skills and prepare for relevant certifications, based on your profiles.
DevOps and Cloud skills are in high demands now a days. Every small-scale manufacturer to large IT industries, are moving towards automation, containerization and cloud. But the major challenge with these areas are – achieving on-ground implementable solutions, security-in-place and finding the right candidates for implementing and maintaining their environment. Everything moves around on-ground skilled employees. Employers and clients want proof that you have the expertise, they need. They want to know you're continually improving your skills to stay up on the latest technologies and threats associated to it.
Thinknyx Certification helps learners build credibility and confidence by validating their expertise with an industry-recognized and official Certification program. We have served many thousands of professionals and students in DevOps, SRE, DevOps-IaC, DevSecOps and in Cloud Security until today.
Certification is not about passing an exam. Its all about learning, up-skilling, acquiring relevant knowledge and proving the world that you are capable enough…
Duration of Exam
1 hour
Number of Questions
45
Level of Questions
Intermediate to semi advance, and a mix of case study, simple concepts and related terminology
Passing Score
70 Percent
Register
Register for Web-Conference /Corporate-Trainings & Certification, through Website or E-mail
Participate
Participate in training / conference and attend the sessions.
Certification Exam
Qualify for Exam pre-requisites and appear for the Onsite Certification Exam.
Pass the Exam
Pass the exam and get your Certificate, Goodies & Member's benefits.
"We've successfully delivered a multitude of certifications. Become part of our thriving community of certified experts!"
THINKNYX CERTIFIED DEVOPS ASSOCIATES
THINKNYX CERTIFIED SRE ASSOCIATES
THINKNYX CERTIFIED DevOps-IaC PROFESSIONAL
THINKNYX CERTIFIED DevSecOps ASSOCIATES
THINKNYX CERTIFIED DEVOPS PROFESSIONAL
Give us a call or email us. We endeavor to answer all inquiries within 24 hours on business days.
We are open from 10am – 6pm on week days.